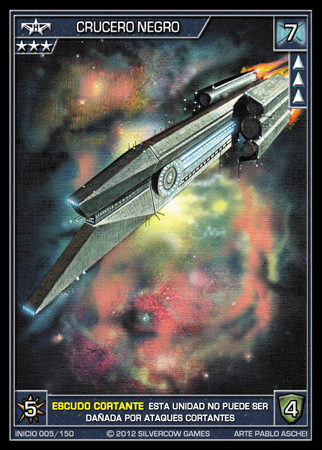 El Crucero Negro es la carta número 5 de la colección Inicio. Su ilustración fué hecha por Pablo Aschei. Es una carta Unidad.
Historia
Edit
El crucero negro fué la primera nave en llegar al planeta Enadrya, trajo desde la Tierra a la gran mayoría de los humanos que hoy lo habitan. El general William Mason es el encargado de dirigir una escuela de supervivencia extraterrestre dentro de la gran nave.
Habilidad
Edit
Esta carta posee la habilidad Escudo Cortante, la cual es extremadamente útil para defender en caso de recibir ataques del tipo cortante.
Curiosidades
Edit
Ad blocker interference detected!
Wikia is a free-to-use site that makes money from advertising. We have a modified experience for viewers using ad blockers

Wikia is not accessible if you've made further modifications. Remove the custom ad blocker rule(s) and the page will load as expected.