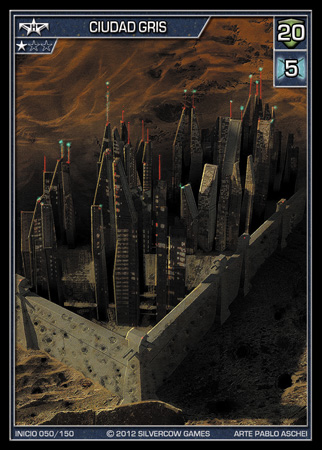 La Ciudad Gris es la carta humana número 50 de la colección Inicio. Es el equivalente de Guarida Nowu y Rakul de la misma colección. Su ilustración fué hecha por Pablo Aschei. Es una carta Base.
Historia
Edit
Ubicada en la parte oeste de los llanos de Owin, ciudad Gris es la primer base humana establecida en Enadrya. Desde la llegada de los humanos, la ciudad Gris ha sufrido fuertes ataques de las demás razas. En esta ciudad, los humanos desarrollan potentes máquinas e investigaciones de los recursos de Enadrya.
Características
Edit
Es una gran ciudad llena de edificios, almacenes militares y laboratorios, está protegida por grandes murallas con torres de defensa ubicadas en sus ángulos y por la Patrulla de Owin.
Curiosidades
Edit
Es la única carta base humana de la colección Inicio.
Ad blocker interference detected!
Wikia is a free-to-use site that makes money from advertising. We have a modified experience for viewers using ad blockers

Wikia is not accessible if you've made further modifications. Remove the custom ad blocker rule(s) and the page will load as expected.