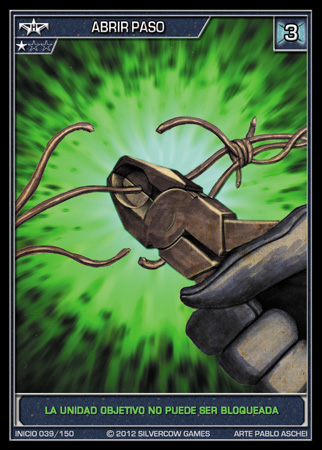 Abrir paso es la carta número 39 de la colección Inicio. Su ilustración fué hecha por Pablo Aschei. Es una carta Poder.
Descripción
Edit
Romper barreras es dar inicio al paso de un batallón, abriéndole el camino hacia campo enemigo.
Funcionamiento
Edit
Abrir paso afecta a una carta tipo unidad posicionada en zona de ataque. Al usar el poder, el oponente no puede posicionar ninguna carta enfrente de la unidad atacante con el poder activo. Si la carta defensora del oponente ya estaba posicionada en la zona de defensa (únicamente tras un Ataque Masivo), abrir paso hace retroceder la carta posicionada frente a la unidad atacante. Si la unidad defensora fuese colocada en su turno de defensa, abrir paso aún tiene efecto en el turno de refuerzo del atacante (también hace retroceder a la carta posicionada frente a la carta de ataque). Aún así, la unidad con el efecto de abrir paso puede ser objetivo de poderes y tecnologías enemigas.
Ad blocker interference detected!
Wikia is a free-to-use site that makes money from advertising. We have a modified experience for viewers using ad blockers

Wikia is not accessible if you've made further modifications. Remove the custom ad blocker rule(s) and the page will load as expected.